Pending Food Shortage in 2020
The signs were here all along. Something was amiss but people refused to see it. We talked about it, we were called tin foil hats or conspiracy theorists and yet here it is. I am speaking of the COVID19 lockdown, the closing of work sites, the Government control that has gripped America and the rest of the world.
But you see America has taken it way too far. They are power grabbing and power grabbing my friend is dangerous. Why would they do this you ask? Well if they had control of the populations food supply they can then obtain any agenda on the table and many of you played right into their hands on this one. They start with your best interests in mind and then they switch focus to their agenda.
This went from mitigation of a virus to taking your work away from you to controlling your food. So pay close attention to this article because your well being is at stake. Survival food makers are way behind so your life may depend on being able to snare, trap and store your own food. Now this is not to say you won't be able to obtain survival foods later, in fact we plan to reduce our survival food prices in a few weeks so be sure to register for our newsletter so you will know when these go on sale.
Many people associate trapping with an old farmer in worn down jeans, chewing tobacco and driving a 1947 GMC pickup. The truth is trapping is a very critical and much needed trade. Today we will discuss why its important and a few pointers on how to get started.
Trapping is not just for gathering furs or making money, it can and in fact has fed starving families in hard times. During the great depression trapping was a primary means of food procurement for many people. We are teetering on the edge of something big popping off and when it does you better know how to use these tools listed below.
What To Do When There Is No Food
We discussed the lack of being prepared in our SHTF 2019 article here and now here we are on the verge of a real SHTF scenario. It could begin something like this. Tensions are building across the world, we have our military deployed into every hotbed region on the planets and the American dollar begins to tip and is on the verge of collapse. We have over extended ourselves financially. China, the main debt holder of American bonds, could at any time demand full payment on their bonds.
With the technology of today, information and news spreads around the world in microseconds, the domino effect would take place. The world could panic, which becomes contagious, and other countries will rush to get rid of the American dollar. At that point, the Federal Reserve would be overwhelmed and simply declare a bank Holiday, refusing to pay out all at once. Countries would immediately cut off shipments to America. Oil shipments stop and gas skyrockets to $10 a gallon and higher.
Worried Americans rush to the banks in blind panic trying to withdraw their hard earn money as nationwide panic sets in. Congress and the Senate hold emergency meetings trying to work with the debt holders. All government payments are stopped. Gas prices now hit $20.00 a gallon…Cash only. Credit cards and debit cards are no longer accepted.
Social Security payments stop.  Food stamps and welfare checks are not issued. Debt holders demand all payments be made to them before any American receives any payment from the government. Protests begin and instantly turn to riots and every store is looted beyond recognition. Entire cities burn, roads are blocked and the public is cut-off from its supply chain making it impossible to obtain food and other supplies.
Can something like this happen? There are plenty of scenarios that could cause a collapse like this and as most of us know, there is only an average of 3 days' worth of food in your local grocery store. Even scarier is the realization that you only have a few days' worth of food (at best) in your own home! How are you going to feed to your family? We are closer now to such an event than ever before in history.
We are at odds with Russia, North Korea, Iraq and Iran. We teeter on the verge of a breakout at any moment that can lead to such a scenario. On January 12th 2020 the Taal Volcano in the Philippines erupted. Scientists are expecting an even larger eruption soon. What is this eruption is a VEI7 ? This would be a cataclysmic event that would leave billions dead. The potential is here now, its looming and its not IF it happens but WHEN it happens.
Is Hunting The Answer To Our Problems?
I hear a lot of hunters and survivalists say "I am simply going to hunt and fish to survive". My question to them is, "Are you planning to starve?" A normal adult needs around 2500 calories a day to live an active life. Of course, the more physical work you do, the higher the calorie count needed.
For instance, say you bug out and you hit your favorite spot before the others arrived. You manage to shoot a deer. There is approximately 526 calories in one pound of cooked venison. If 2 people are only eating venison how long would it last?
Do you have a freezer at your bug out location? Do you know how to make jerky in the field? On a 150 pound deer you are only going to get about 2/3 useable meat or 100 pounds. Each person would need to consume 3.5 pounds a day. So for 2 people it would be 7 pounds a day. You would run out of food in 14.2 days. Now what will you do?
Trapping techniques for small game animals.
Let me introduce you to "Survival Trapping". Most hunters are stuck in this mode of "I can survive off deer". There is simply not enough deer to feed all the people coming into the woods and within a month most will starve to death or head back to the cities. People do not have the skills for long term survival.
During the Great Depression many a farm boy saved family farms by trapping. Furs were worth money to pay on the bank notes and the meat was used to feed the family.
What are the small animals hunters often overlook? They are raccoons, possums, groundhogs, and beaver. One raccoon has 1157 calories per cooked pound of meat (compare that to venison above). Beaver meat contains around 665 calories per one pound of meat while pheasant contains approx 1084 calories per pound of meat.
We will have more on the calories and nutrition value of meats in a later article.  But like hunting where you just don't go buy a gun and say you are hunter, trapping has a learning curve and you need to go out and practice the skill beforehand.
Which Animals and How To Trap Them?
Bigger isn't always better, focus on the smaller animals. One 20 lb raccoon gives you lots of calories. If you figure you can harvest 11 lbs of meat from it you will have around 12,727 calories total. Below is an ideal location for raccoons. They love to venture into open holes.
A little bit of bait in the culvert, set a trap in front, and you are eating. A snare would work at this location as well. One might want to add a few rocks near the entrance to allow them to get into the culvert more easily.
Other locations for raccoon are along creeks and small streams. They like to feed on crayfish, frogs, small fish etc. So focus on the creeks and streams. If you are in a city but still relatively close to a park or wooded area then you most likely have some raccoon near you. They love to get in garbage cans. You can make an excellent trap using those garbage cans
How To Build A Racoon Trap
You will need a few things to make this work correctly.
A large heavy duty garbage can with a flip top attached lid. These work best and we will explain in a moment.
A table or other object as tall as the can or as close as you can get it.
a 2×6 board no longer than 2/3 the depth of the can
Place the can next to the table or object they will be climbing up onto in order to access the can. Secure it with rope so that it will not tip over. Ensure the raccoon can easily access the table top by placing a chair or other object he can crawl up on.
The board should be placed so that it overhangs to the center of the garbage can opening. The other end resting on the table. PLace the bait on the end over the hole. WHen the raccoon walks out to the bait, the board will tip and in he goes. If you have the hinged lid can, you can secure a line from the board to a prop stick supporting the lid so that when he falls in, the lid will slam shut.
Below is a general idea of how this is set up.
This is a very effective poor boy trap and it works for squirrel as well. You can also fill the can with 2/3 water which will drown the animal eventually.
Coils Spring Traps and Dog Proof Traps
For Raccoon you would want to use leg hold traps like the Duke #1 CS up to the Duke #3CS or you can use the dog proof coon traps (all above) which are super easy to use and work like a charm. If you are after smaller game like rabbit, and squirrel you can use the 110 body grip trap seen below.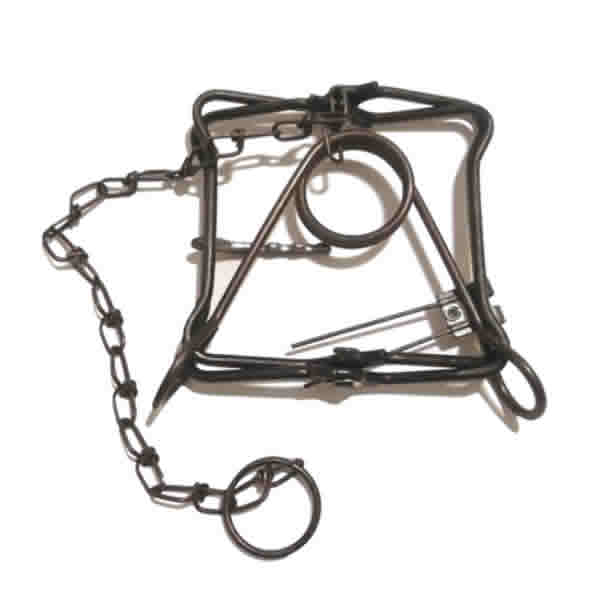 The good thing about the 110 body grip trap is it fits easily into a bug out bag, its light weight and versatile. Set these along a log run where squirrel travel and you will eventually have dinner. Place a bit of bait on the trigger for game birds such as pheasant, duck, geese, grouse or turkey (we suggest you only trap game birds for survival purposes as anything else would be illegal). We have even placed worms on the trigger, anchored these in a pond and caught 3-4 lb catfish in them.
The 110 body grip trap has become a favorite among survivalists due to their ease of use and versatility. They are very affordable in the $3.99 to $4.99 range and can least years when taken care of. If you buy 110 body grip traps we suggest you boil them to remove the oils then coat them in wax or use Zep High traffic floor polish to give them a protective coating. We also dye our traps using the Walnut Hull tanning and dying method.
Note: The Duke 110 body grip trap is the cheaper version of the Conibear 110 body grip trap which retails for around $6.50 to $7.00 each. Both traps function the same way and look fairly identical.
Survival Snaring For Food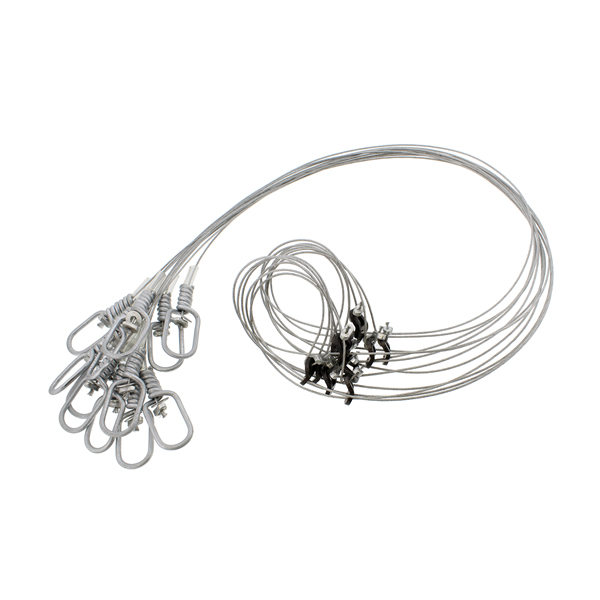 Let's talk about modern self locking snares for a moment They are made out of aircraft cable and have a locking device. Once tightened on the animal it cannot back off. There is a swivel at the end so once an animal is caught he can spin in circles without binding the cable to the point of breaking.
How would you use a snare at the culvert we mentioned before? Here is a quick explanation. Pound a wooden stake into the ground next to the culvert. Place a piece of bailing wire wrapped tight  up near the top of the stake. Insert and connect the lower end to the support collar (tapered black spring) on your snare.
The support wire should be above the snare loop and angling down to the support collar. This allows the snare to "hang" from the support wire and allows for adjusting as needed. The coon goes in to eat the bait, pushes on the lower part of the snare loop and the snare tightens up locking on the animal. It's literally that simple
If you are without snares, don't worry, they are quite easy to make. We suggest you check out how to make a snare and study the different types carefully. If you are concerned about not building them right then no worries, we carry many types of snares for sale in our store.
Beavers are an overlooked food source that can offer many benefits in a survival situation. The meat is high in calories, about 960 per pound of cooked meat, it tastes a lot like beef and the pelts are tough and durable for making needed items. Snares can be used beaver just as on all other small game animals using the same technique.
For trapping beaver you want to use the 220 body grip trap or the 330 body grip. These traps are strong and effective but don't expect to toss them into your backpack, they measure around 7×7 on the 220 and 10×10 on the 330 however they are indeed a very critical tool in survival.
This article is just a small summary of the tools used and only a small tidbit of the tips. Want to know more about survival trapping? Register for our newsletter for regular updates and information on how you can increase your chances on survival.
If gathering, hunting or trapping for food is something you don't wish to consider, then worry not, we carry lots of survival foods to ensure your families survival.
By registering with us you can get periodic discounts on trapping supplies, survival gear and survival foods.
Source
The Pending Food Shortage is written by Roger Bunch for www.snare-trap-survive.com